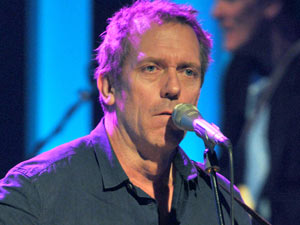 Hugh Laurie is mostly known as doctor House but already in the serial we can see him playing the piano and singing to himself.
From the age of six Laurie took piano lessons with a Mrs Hare. He plays the piano, guitar, drums, harmonica and saxophone.
He is a man of many talents.

Now he has made a record and he is singing for all of us. His album " Let them talk" is smooth and simple yet interesting. His vocal is very good and it sounds that he is truly enjoying himself-he should because music suits him.And it's a bit weird that it doesn't feel like Doctor House is singing ,I mean it actually should feel like that to me because I'm not really seen a lot of his other movies or serials but when he sings it is easy to forget who is singing.Just listening some good blues that also suits rainy weather that we have here in Estonia.
"Let Them Talk" is the first album to be recorded by Hugh Laurie after signing to Warner Bros Records in 2010. Produced by Joe Henry and recorded in Los Angeles and New Orleans, the album is a celebration of New Orleans blues.

All of his songs have some sort of similarity,some line that goes through them.Hugh himself thinks that it tells a story. Hugh Laurie is probably your best friend when you want a glass of wine. Song called "Buddy Bolden's Blues" is mellow and makes you feel like Hugh is singing next to you. Hugh makes you feel like you are not alone. Even though all the songs are covers it made me feel like they are fresh and first.

The album is quite instrumental and a lot of jamming is going on so there is something for friends of improvisation. For example the fifth song " Battle of Jericho" where the melody is simple, but what goes on between the lyrics makes you listen to it.
Some of the songs are collaborations with well known artists such as Tom Jones, Irma Thomas and Dr. John. Laurie plays piano and guitar on the album in addition to providing lead vocals.
The mournful "The Whale Has Swallowed Me," with its spare acoustic guitar accompaniment, is another chance for Laurie to shine as the lost, frightened narrator. A backdrop of shuddering fiddle and dobro gives the song an even more ominous tone.
Quite dramatical is the song called "Swenee River" and dramatical in a good way. There is a strong deep start and then the party will begin but it is not the sort of party where you want to dance,it still makes you want to sit down and listen to jolly music.

So Hugh Laurie can relax your mind and take some pressure off and is a good friend from the start. He sings about everything-whales, church, friends, dancing. There is this one song "Police Dog Blues" that just tells a honest story. It feels like everything is so real and simple so Hugh doesn't have to make a big effort. Another good song is "Tipitana" with a little twist that makes you love Hugh. It somehow shows his personality. But the song called" The're Red Hot" is a bit too country for this album.
The last song in this album is a nice ending. It kind a refers to the name of the album and it makes you think:
" Let them talk I'm just gonna listen to some music".