f(x) has always stood out from the KPOP scene for having a sound that's distinctly theirs in a world where changing ´concepts´ and styles after each new release is almost mandatory. The group was targeted, and arguably still is, as S.M. Entertainment's weird offspring that gets the more experimental bits while others under the label get the more ´crowd-pleasing´ songs and, as the majority of the fans will tell you, due to this f(x) hasn't always had the perfect management. The beginning was rocky for them – they made their debut as a quintet in 2009, a year many claim to be the year in KPOP, with a rather lackluster single and having to follow the footsteps of immensely popular groups didn't really help either. It took more than 6 years for them to get a solo concert despite being extremely popular domestically and overseas, not to mention the fact that their fandom got an official name only this year (usually a necessity for rookie groups right off the bat). The winds seemed to be changing with their surprise summer jam Electric Shock in 2012 that had a solid EP to boot, however, it wasn't until a year later with the release of their second full-length album Pink Tape that f(x) bloomed into an act no one could get enough of. Pink Tape seemed to be one of the best KPOP albums of 2013, if not of all time, and soon everyone was talking about the new trend setters.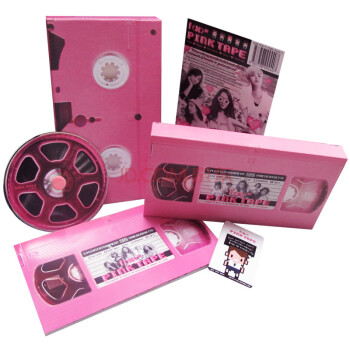 Everything about this album release was compelling
–

the way they had hyped it up with an album highlight medley and an art film (a new sight in the industry during the time), the dreamy vintage vibe from the teaser pictures, the design of the physical album itself. No one had really imagined so much thought going into this comeback, so naturally people were excited beyond words.
The group has released 2 more albums after Pink Tape thus far, Red Light in 2014 and 4 Walls last year (now promoting as a four-member group), both charting well and getting quite a lot of critical recognition, especially international recognition, further proving them to be an ´iconic´ group in the scene, but in the eyes of most, nothing can touch Pink Tape. People are still standing by the fact that this album is a ´classic´, but was it really worth the buzz? Is it still worth the buzz?
The first track on the album is the lead single Rum Pum Pum Pum which was released with a pretty generic KPOP music video, meaning lots of colour, dancing, and weird scenes of the girls sniffing metallic flowers (thankfully the two more recent releases have had more thought put into their videos). The song itself is very true to what f(x) is known for - funky, sprinkled with somewhat odd transitions and harmonies, and layered with details that make the song rather interesting. The pre-chorus is sung in a vocal round which doesn't happen in KPOP all that often and so makes for a nice surprise (and it's no accident the song is called Rum Pum Pum Pum with those not-so-subtle influences of Little Drummer Boy), adding to that is the Middle Eastern flavour that gives the song a light exotic touch. As a whole, though, Rum Pum Pum Pum did feel a bit underwhelming for some, and I have to agree in a way, but when taking the song apart, f(x)'s true colours come through and it's a delightful track. The lyrics are a creative take on the topic of first love as the girls compare it to ones wisdom teeth (a play on the Korean words love (sarang) and wisdom tooth (sarangni

)

):
Hello, you've probably heard of me at least once, your wisdom tooth/ You probably think you experienced it all when you were young/I'm a bit different, I pushed aside all the others and took my place/I will pierce through your heart's wall and grow/Your head will hurt, you won't be able to sleep/You won't forget me easily, your true first love
Other than the brilliant Luna not getting to showcase her vocal talent like she does in other f(x) songs, there aren't many glaring faults with this one. It's not one of their utmost best lead singles, but it's definitely not boring either.
Next up is Shadow that was featured in the art film which served as a teaser for the upcoming album. Not only did the song capture the aesthetics of the video to a T, it also made people have extremely high hopes for the whole album for it didn't sound like the typical filler track you'd come to expect of KPOP albums. Apart from Luna, the group isn't really known to be a vocal powerhouse, but the light, almost thin sounding vocals over of the eerie instrumental work perfectly for this song about a shy girl pretty much stalking her crush. While there isn't really a high the song is trying to get to, it remains a fan favourite after all this time with its mellow feel and creepy lyrics.
The pace slowly picks up with a pop-rock piece called Pretty Girl. The intro of the song might be a tad bit misleading for what's to come, but that's f(x) for you. With a strong and bold pre-chorus, a simple but catchy chorus, and the empowering lyrics of breaking through a shallow world where people only focus on looks, Pretty Girl is a certified uplifter. While it might sound messy at times, the girls get to challenge their upper registers in this and Amber's token rap, while not without faults, turns out pretty well.
The fourth track on the album is Kick that many consider to be just a speedy filler, but in my humble opinion gets the album back on the track of the electro territory usually associated with f(x)'s sound, along with the sing-talking and the sudden transitions. It's not an easy listen, the chorus being the only part you'll probably remember about the song, and if you aren't really in the mood for chaos, Kick can sound just a bit too jarring.
Signal
is the groovy disco-inspired track that is cleverly placed right after the experimental Kick for the listener to collect their thoughts and calm down after that mishmash of sounds. It's not anything exceptional but it's a nice song for some easy-listening and it's one of the most consistent songs genre-wise on the album (which is why people might find it on the boring side).
Arguably the track that starts the second coming of the album is Step, a summery, infectious, energetic song that will at least get your head nodding along. The backing track might sound a bit dated now with that blaring saxophone, but in 2013 it was the shit. The teasing ´na na na´s in the verses make the song extra fun and since it's quite literally about strutting confidently around the city in comfy sneakers, Step offers an easy-going feel through the lens of a synthpop-driven track.
The next song called Goodbye Summer features the vocals of a fellow labelmate D.O. from EXO and omits the vocals of Sulli and Victoria, the weaker vocalists of f(x), bringing us another calmer track without becoming stagnant. Krystal and Luna offer a lighter vocal side while D.O. and Amber try to bring some balance to the song with their lower ranges and the harmonies on this track are most likely the best the album has to offer.
Airplane
starts off soft but quickly rises to greater heights (pun intended) with its melodic sound and dubstep-done-right bits, channeling Zedd (most noticeably Clarity). The song takes you on a trip (seriously, they make it too easy) with the constant plunges and ascendings of the instrumental and it's rather obvious why this track was promoted alongside the title song Rum Pum Pum Pum. It's airy and bright while skillfully using the wide vocal range f(x) has to offer, making it a really enjoyable listen.
We move along to Toy, another disjointed song that holds up surprisingly well. While still having that explosive edge to it, every part manages to tie in with the other bits, even the weird dubstep breakdown, and I can't help imagine what a wonderful performance track this would be. It's frantic and all over the place, a perfect description of f(x)'s music overall, and follows the steps of Kick, only in a less jarring way. It's quirky but Toy also in a way marks the inevitable decline of the album.
The spunky throwback No More is next and like Toy matched the feel of Kick, No More matches Signal in being one of the few ´genre-pure´ songs on the album. The ad-libs and harmonizations make it sound like it should fit into a musical, but surprisingly the demo for this song was supposed to end up on Ariana Grande's album. Boyfriend Material (Grande's version) differs from No More purely in terms of lyrics as Grande sings about her excitement over finding the perfect guy while f(x) sing about a fox-like girl who forgets about their friends as soon as she finds a new guy.
Snapshot
is almost like a second shot at a musical-inspired song until we reach the chorus and realize we are genre-bending again with ´the lovely f(x) ladies´. Would this have been a better fit for the 1st half of the album? Perhaps. The number still works nonetheless, maybe not having as much of an impact as it hoped it would, but it's still an interesting track with some trademark chanting and sing-talking going on.
The last song on the album is aptly named Ending Page, another pop-rock flavoured ballad, and right off the bat it sounds like a closing track. It's not by any means a standout song and it's not meant to be one – Ending Page is something to listen to while looking back, reminiscing about past events or in this case, thinking back to what song left the most impact on you and, more importantly, how f(x) has grown from release to release and how they will eventually mature even more as shown on Red Light and especially their latest album.
Pink Tape managed to capture f(x)'s eccentric style but also their confidence at trying to get better as well as maturing without losing their youthfulness and the end result definitely paid off. Daring to take risks and not be predictable in the world of KPOP worked for f(x) then and works for them now. Pink Tape's influence on their future projects, and its influence on the whole genre in fact, should not be underestimated and something tells me it never will be.