Only a scant few legends of jazz have penetrated the consciousness of the modern music aficionados,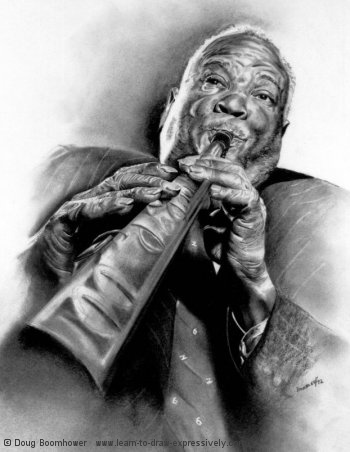 © Doug Boomhower


obviously Louis Armstrong but perhaps even Miles Davis – if not their music then at least their names. At the fount of nascent 20th century jazz music stand numerous other artists, largely forgotten, overlooked and unheard. Among those neglected by the general populace are musicians such as Benny Goodman, Bix Beiderbecke, Cannonball Adderley, Charlie Parker, Dexter Gordon, Dizzy Gillespie, Django Reinhardt, Duke Ellington, Freddie Hubbard, Oscar Peterson and Sidney Bechet – all names well-recognized by those familiar with jazz. Granted, jazz came, conquered and degenerated. Jazz now seems to evoke little else but 1980s Kenny G-esque smooth jazz tenor saxophone ditties (see: Baker Street and Careless Whisper). Still, on the backdrop lies the uncultivated appreciation of a most diverse musical genre.
The 1920s in the United States are appropriately referred to as the Jazz Age and the Roaring Twenties. Jazz encapsulated the passionate and fervent spirit of post-war enthusiasm. Culturally it was the early variation of what was later expressed by the likes of electric blues, rock and roll, rhythm and blues, hard rock and hip hop – a kind of renunciation of the old or the fashioning of the new.
Bechet in 1953.

© All rights reserved.
Sidney Bechet is one of those early jazz musicians and a most distinct one as well. He wielded the clarinet and the soprano saxophone with as much skill as his contemporaries, Louis Armstrong and Benny Goodman to name a few. Few parallel his domineering playing and his mercurial temperament (for more detail on his life and much else on jazz, see Ken Burns's documentary series Jazz; in it also the supposed gunfight with another musician because of a wrong chord and Bechet's subsequent imprisonment). Bechet is one of those artists that one is unable to confuse with anyone else, so distinguished is his style, especially his wide vibrato. A handful of artists have matched his marvelous skills of improvisation, a subjective assessment but pertinent nonetheless.
Sidney Bechet's first primary instrument was the clarinet which he later substituted for the soprano saxophone. As was common ever since the late 1910s, he toured extensively with many groups and orchestras, establishing his reputation as an extraordinary musician.

Marginally acknowledged in the United States, he was extolled in France. He relocated abroad like many American musicians with limited financial success. There he was lavished with praise and a recording contract and thus he spent his last decade in France, dying in 1959 from lung cancer.
Sidney Bechet's meticulousness permits him the freedom which he employs par excellence. Not a stranger to any key on the scale, his improvisation is enhanced by his confident and attacking approach. His playing is similar to a desperate attempt to sticking one's finger in the dam – to try and stop the overwhelming surge of a barely contained force pulsating behind the sound waves. His aggressive playing aptly construes his turbulent personality, accented by a "
wide vibrato that listeners either loved or hated". I state with intrepid certainty that without Sidney Bechet we would not know the likes of Charlie Parker, John Coltrane, Ornette Coleman, Albert Ayler, and yes, even Kenny G, the way we do. It is just this egregious disregard with respect to his implicit and explicit influence that prompted me to write this brief overview of his life.
I am not so much concerned with the critique of Bechet as a jazz musician, rather with constructing a gateway into one of the more fascinating, polemical and wonderful artists in music history. I am merely paying my due, for it is Bechet, alongside Django Reinhardt, who years ago converted me into a jazz devotee and inspired my own endeavors in playing both the saxophone and the guitar. Any unbiased or overly fastidious analysis of Bechet's songs and his playing would necessarily succumb to my assured esteem for him. What use there is to describe an artist only in superlatives, or rather, what does unequivocal commendation tell you about him? My aim would only be to encourage the reader to listen to the songs interlaced into this text and to spur interested in the mosaic that is jazz music. Do indulge, as many in the know already have, in the music of the masterful Sidney Bechet.
Also for this last video: here for a transcript and an overview.
Other recordings that are worth a listen: Blue Horizon, Chant in the Night, High Society
,

Maple Leaf Rag, Mood Indigo, Indian Summer.